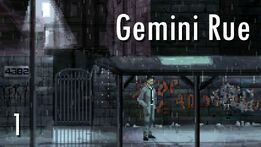 Gemini Rue is a completed NIcoB Let's play of Joshua Nuernberger's short indie game Gemini Rue. This was played in between the Kingdom Hearts RE:Chain of Memories and Kingdom Hearts two.
This game was purchased during Nico's early let's plays like The Cat Lady, but never got the chance to play it until April 2016.
Episodes
Edit
GOOD GUYS
REHABILITATION
PARADOX OF FREE WILL
Interestingly enough, NicoB was able to predict most if not all major plot twists in the game.
Ad blocker interference detected!
Wikia is a free-to-use site that makes money from advertising. We have a modified experience for viewers using ad blockers

Wikia is not accessible if you've made further modifications. Remove the custom ad blocker rule(s) and the page will load as expected.