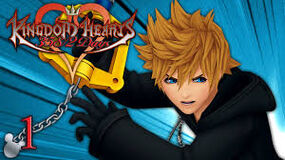 Kingdom Hearts 358/2 Days (read as Three Five Eight Over Two) is a NicoB Lets Play of h.a.n.d. and Square Enix's DS game Kingdom Hearts 358/2 days. This is the fifth installment of the Kingdom Hearts series.
Because there are high quality versions of the cut scenes in the HD Remix, NicoB decided to edit in the better versions on to his Let's Play. Unfortunately, because Camtasia only has a 32 bit version and it 'doesn't like' other video formats, it takes a bit longer for Nico to upload his Let's play of 358/2 Days.
NicoB has hinted to a possible let's read of the Kingdom Hearts Manga in this let's play, after the Picky Penguins recommended it to him.
Episodes
Edit
THE KEY OF DESTINY
NUMBER XIV
THE THREE OF US
TWO KEYS
SOMETHING TO PROTECT
THE BLACK SHEEP
HER MEMORIES
INSUBORDINATION
THE PUPPET
BETRAYAL
In one of the Let's Bond episodes featuring comments from the Picky Penguins, NIcoB found about AkuRoku from one of these episode. Unless you want to be assaulted by yaoi, then don't look it up.
There is a counter on how many times Axel says " Got it memorized?" or something similar. As of episode 10, there are 15.
Ad blocker interference detected!
Wikia is a free-to-use site that makes money from advertising. We have a modified experience for viewers using ad blockers

Wikia is not accessible if you've made further modifications. Remove the custom ad blocker rule(s) and the page will load as expected.